Business Spotlight
DealerExplorer: Sourcing Win-Win Opportunities for Lenders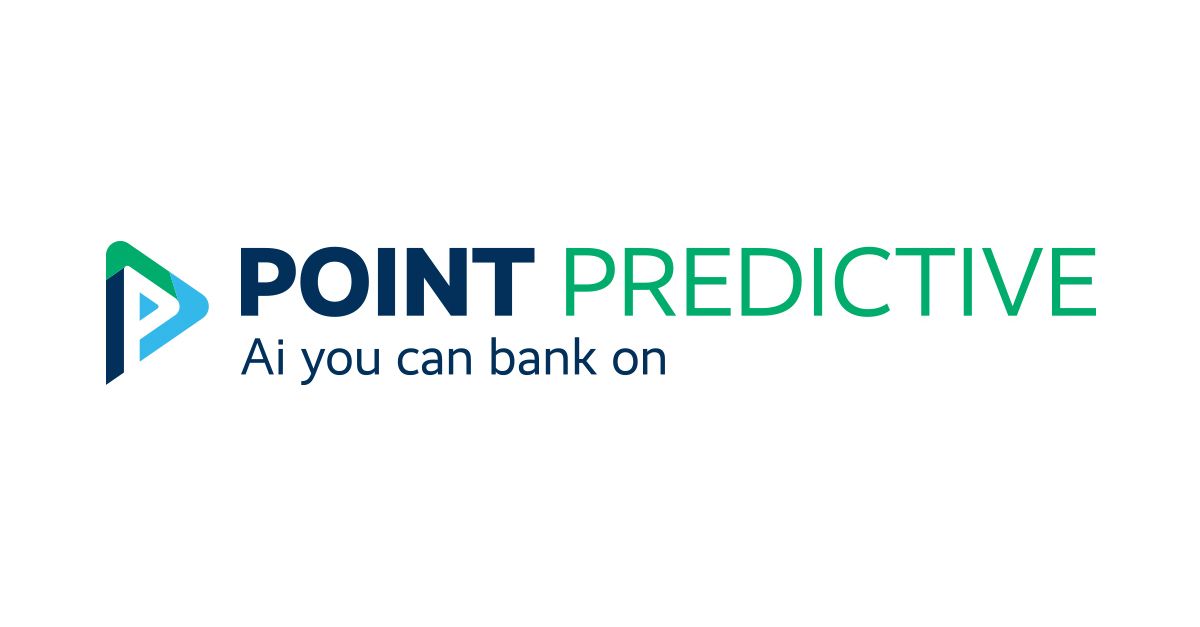 Auto Digest November Business Spotlight - Louisville, KY
According to sales statistics, there are ~17 million U.S. auto retail sales yearly, meaning ~46,000 daily transactions. While there was a demand dip in the early days of the Covid, everyone knows sales have more than recovered and the market has remained hot well into Q4 2022. Much of this demand has relied on financing thanks to interest rates, in fact ~85% of U.S. car purchases are financed.
Dealer Explorer
DealerExplorer provides unique data on the quality of loans from 150,000 dealerships nationwide. Designed to evaluate and onboard new dealerships.
More Info
Set The Stage
These volumes are spread across thousands of dealerships with a litany of lending companies. Dealer-lender relationships are a critical function of the automotive ecosystem, and the management of established and potential partnerships between lending company X and dealership Y is historically based on rudimentary figures and data.
Currently, obtaining new dealership partners can be... hit or miss. Lenders have reps go to dealerships and build relationships while examining public data online (ex. dealers website). Lacking advanced infrastructure for acquiring new opportunities, lenders were not able to take advantage of the digital age as much as they may have liked.
Roadmap for Maximizing Dealer Relationships
Point Predictive, a San-Diego based firm that prides itself on technical solutions for dealerships and lending agencies has developed a software that aims to expedite the process of evaluating potential risks/benefits of adding new dealerships to a lenders portfolio.
Aptly named DealerExplorer, it is a tool built for lending agencies and their analysts providing a dashboard of data. The tool mines data from Point Predictive's dealer consortium, a state of the art database that has records on dealer and lender performance dating back to 2013. The dashboard allows one to view in-depth statistics on nearly every dealership in America.
💡
DealerExplorer enables a lender to search our consortium data by name, address, city, state, etc... and view dealerships that fit that criteria.
The following image is taken straight from the product interface, and as you can see provides both granular data as well as summarized stats up top for those working with considerable time constraints. In fact, the data gets much more granular than this... but that won't be covered in this piece.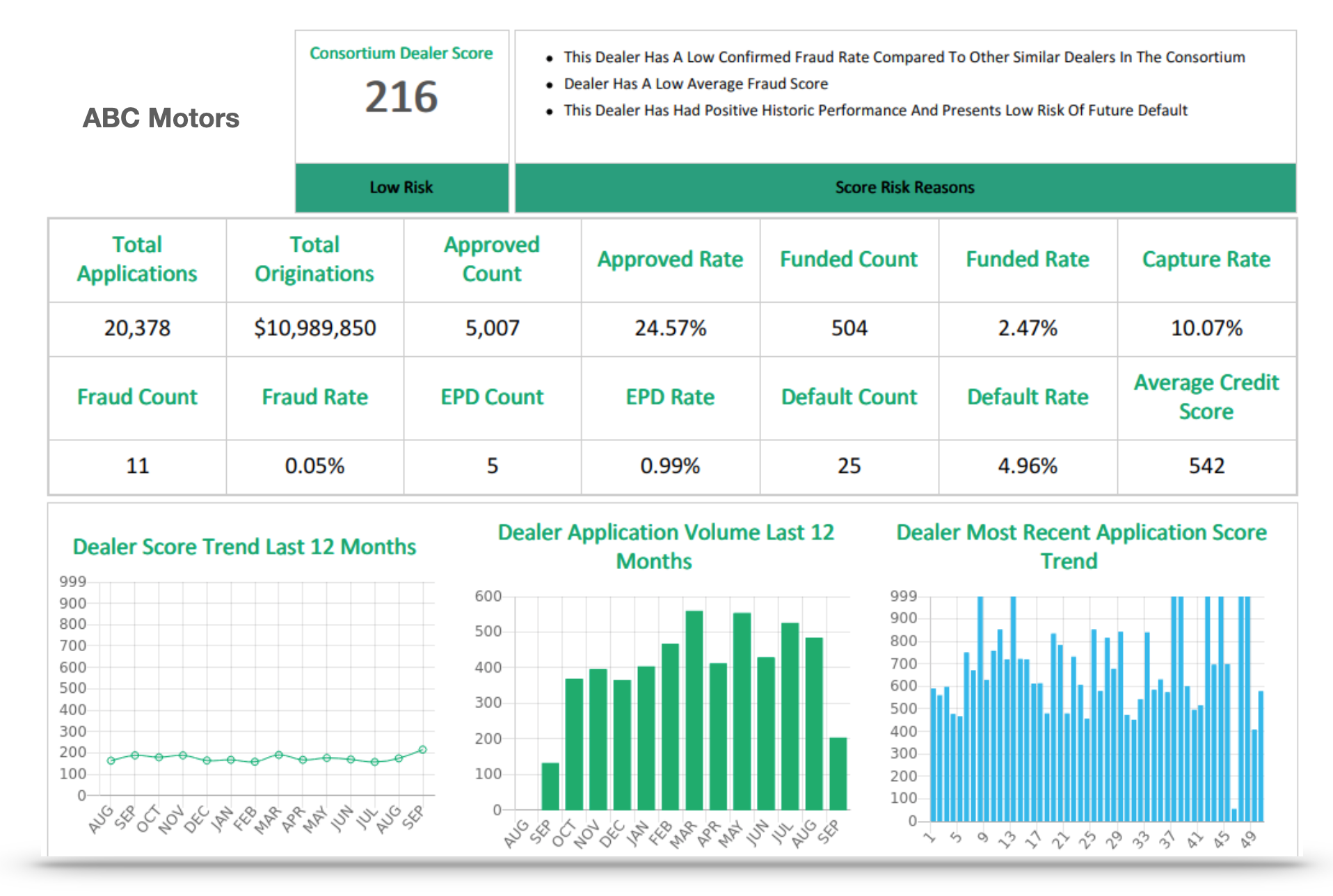 Serendipitous Introduction
The current macro-economic situation is far from ideal, but the release of DealerExplorer may help ease some of the pains that are soon to be exposed in the automotive finance world. According to various outlets, the average length of a automotive loan is at or near an all time high, as well as the amount of each monthly payment. With interest rates on the rise, some consumers may be stressed to make ends meet.
"As interest rates increase, more risk comes through and people want... or are motivated to lie on their financial applications they submit to dealers" - Frank McKenna
Due to these compounding factors, lenders may be motivated to re-evaluate current relationships with dealers and search for new partners that contain less risk and more return. In the past, a lender may have had a portfolio of five dealerships and noticed two of those dealerships seem to produce more defaults than the rest, but was hesitant to terminate those relationships because who knows what was in store at other alternative dealerships? Solution may be worse than the initial problem... luckily efficient research and adequate data mitigates this chance. Taking advantage of this tool, a lender could feel confident in their ability to pivot.
It's possible that once a lender views their current portfolio and compares it to other fish in the sea they begin to rethink their strategy a bit.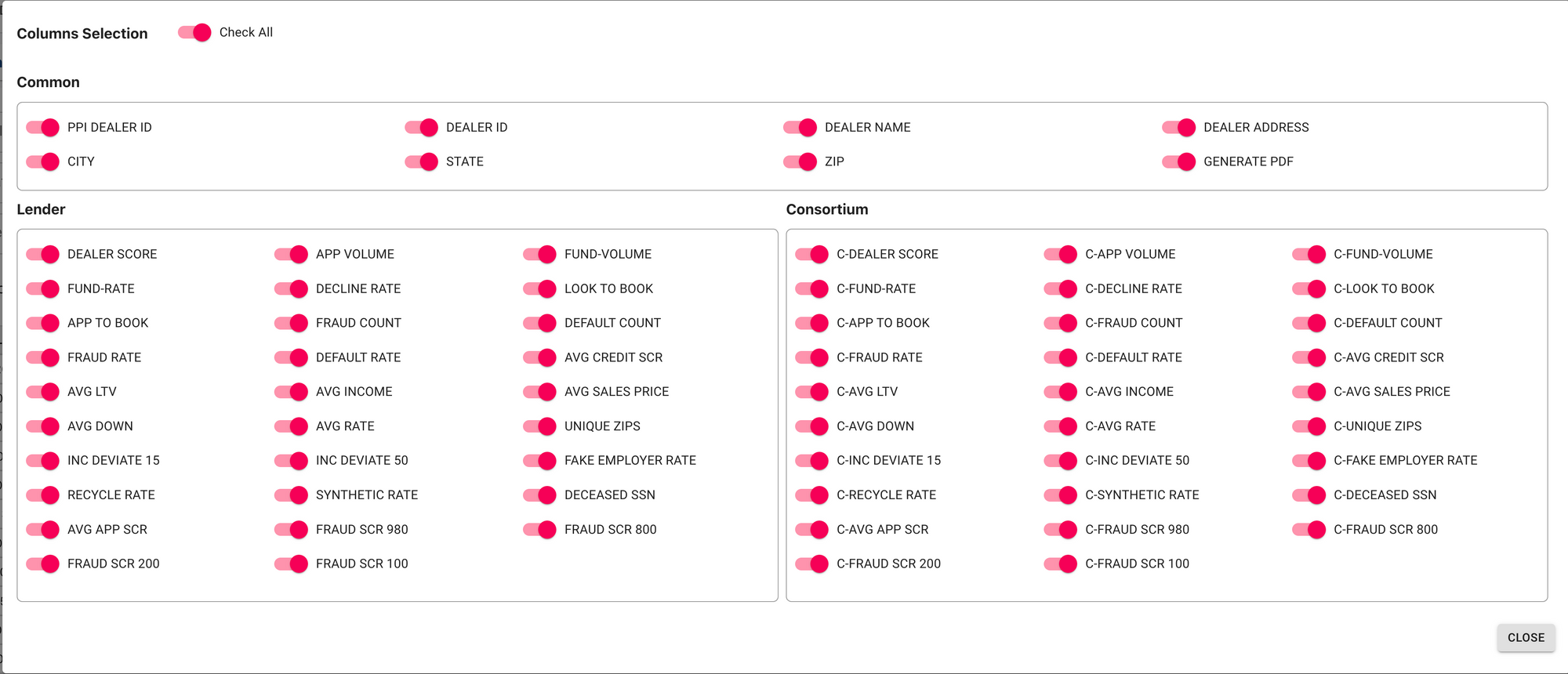 Organic Development
Much like the conception of Point Predictive itself, this DealerExplorer tool was engineered due to lenders voicing the concern for lack of dealership data transparency when it comes to acquiring new partners and developing the lender portfolio.
"Lenders had the data on dealers that they already did business with, but not the ones they didn't currently do business with" … "the product was truly born out of existing industry demand." - Frank McKenna, Chief Fraud Strategist
💡
Database Integrity - Every month 45,000 different dealers submit 2-3 million applications to the Consortium, all updating in real time.
When asked about competing products, Mr. McKenna confidently stated that there is really nothing on the market that competes in parallel with this product. The only similar product is one that examines loan performance based on DMV supplied information, but DealerExplorer gets their data from the source directly, and provides a wealth of additional information.
Certain dealers in the U.S. may not be thrilled to know they have a sort of lending report card, but dealers that run organized operations will surely benefit. Lenders can explore portfolio analysis and expansion with ease, benefitting all involved down to the individual consumers.

Auto Digest covers inspiring stories and leading technologies in the automotive industry.